The studio is an open to the public screen-printing facility in the heart of inner west Sydney whereby I teach enthused members of the community how to silk-screen. Folk needn't be experienced, just interested in the handmade art form with a desire to develop skills.
I run group workshops teaching the entire silk-screening process and you can take advantage of a studio membership and have daily access to develop your skills, make use of the space and create. This is an ideal opportunity for those looking for an affordable means to print their own designs for personal labels, market stalls, gifts and for yourself with friendly advice.
Studio Options
Group and private workshops

$70 private
$50 per person for 3 or more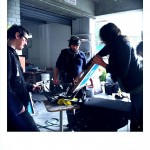 All inclusive- booking fee, screen/squeegee hire, inks, exposure and a free shirt or tea towel (etc) printed by yourself and the option to print countless patch fabrics and papers.
This is ideal for those intrigued by how screen-printing works but for whatever reason cannot commit to a membership.
Participants will learn how to screen-print from coating screens with emulsion to screen exposure, printing, heat setting and ripping screens.
You have the option to use your own designs or studio stock designs.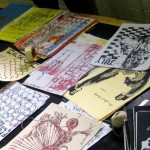 6 month membership

$60
Full use of studio facilities
Induction

$70
Compulsory intro session where you learn the basics of screen-printing and how to use the space. (NB this is the workshop described above)
Booking fee (per hr)

$10
Screen hire

free – $10/week
Free daily screen hire.
If you would like your design to stay on the screen at the studio for further use, there will be a weekly fee of $10.
Screens must be stripped at the end of your session or a $10 stripping fee will be charged unless you have elected to rent the screen for the week.
Designs cannot stay on the screens for greater then 3 weeks so it's fair for all members of the space.
Inks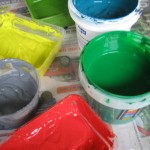 Standard base inks for use on white and light coloured fabrics
$5/250ml
Opaque base inks for use on black and dark coloured fabric
$10/250ml
Specialty ink (fluros, metallic etc..)
$25/250ml
Emulsion/exposure/stripping screens

$10 – $70
Exposing screens yourself:
T-shirt sized screen- $10-$20

Yardage screens- $35
Serviced exposure is also available. I'll happily expose screens for members before your booked time slot or during session:
T-shirt sized screen- $30-$40

Yardage screens- $70
Stripping screens yourself:
$10/screen ($20 serviced stripping)
 **Please add GST to the final cost